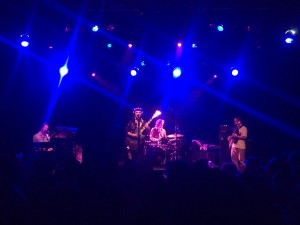 If Sunday is the day of rest, it makes sense that soul music serves as a perfect soundtrack for such sentiments. Marvin Gaye, Otis Redding, Amy Winehouse: all fit well in my idea of a relaxing weekend. This Sunday, my weekend found release through the multi-faced music of neo-soul quartet, Hiatus Kaiyote, at the El Rey Theatre.
I never attended the El Rey before and it gives the impression of a ballroom, with chandelier and all. It allows for plenty of movement without feeling to impersonal a space. From where I stood, nearer to the back, I still maintained a great view of the stage while retaining space to groove.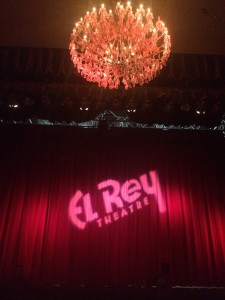 When describing Hiatus Kaiyote, words that come to mind include eclectic & groovy. Lead singer, Nai Palm, entered the stage draped in skeletal earrings, glitter, and neon pink hair-curlers, in contrast to the rest of the band's nondescript clothing (t-shirt & jeans). Palm's description of each song divulged a vibrant array of influences ranging from Michael Jackson's "Thriller," the horror-tinged "Swamp Thing," to Hayao Miyazaki's Castle In the Sky, the psychedelic "Laputa."
Though their moniker suggests discontinuity, Hiatus Kaiyote present a strikingly realized show, each member contributing vital orchestrations that produces their vibrant soundscape. Extra brownie points go to percussionist, Perrin Moss, for keeping the beat throughout each song's oftentimes nebulous time signatures and shifts. Never once did the quartet noticeably blunder a tempo, proof of their cohesion as an act.
Such shapeless downbeats meant the audience often appeared to be dancing against rather than with each other. Yet this seemed of little issue to anyone; instead the audience treated each transition the way a dubstep crowd would treat a bass drop. I saw in this crowd the same energy I've seen for acts like Jessie Ware, true unadulterated fandom. Palm appeared genuinely touched by the audience's warmth to the point of tears.
That being said I confess to feeling annoyed by their initial lateness. Patience may be a virtue but so it promptness, and I hold the latter in higher regard. Though 15 minutes seems like a minor wait, it meant the band could not play every song they wanted, something that comes at our cost as audience members.
Even still, Hiatus Kaiyote demonstrated the hallmarks of all great musicians. Palm carries herself like a true rock star, meshing together her vocals, guitar and sense of sway into a persona that is entirely her own. Even by the finale, the Stevie Wonder inspired, "Breathing Underwater" Palm's voice sounded still as fresh as when it entered.
What perhaps makes Hiatus Kaiyote so magnificent is their willingness to include everyone and everything in their music. Their newest record, Choose Your Weapon, demonstrates this in title and sound. You as the listener are invited to indulge in the world of noise Hiatus has cooked up and interpret them in your own way. At one point they even introduced a contemporary dancer for "Laputa," a remarkable way for them to incorporate a visual element to their jam session. All their idiosyncrasies combine to create a truly wonderful concert that I believe anyone could enjoy.
Sure, the beat can be difficult to keep up with, but Hiatus Kaiyote never implies that they want to leave you behind it.