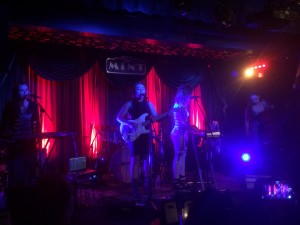 The sisters of House Von Grey possess the malevolent majesty of witches, and last night they made the Mint bar into their personal coven.Small in stature, with sharp eyebrows and a supernatural synchronicity (wow, 's' words), cabal Von Grey (titled after their surname) arranged themselves ascending age order onstage, from youngest, Petra, to oldest, Kathryn. Each of the girls began string training at the age of five, what sister and lead guitarist, Fiona said was her parents' way of instilling "music appreciation."  I confess that I, at least, appreciate the results.
The "cinematic synth rock" of Von Grey evokes Nightwish-esque acts, ones who add traditional symphonic sounds like strings to contemporary styles ranging from metal to pop. Von Grey merges traditional instrumentation and mixes it into a brew of synthesizers, folk (from their Atlanta heritage) and electro-pop to create something earthy, electric and cohesive.
The name Von Grey itself radiates majesty and mystery, and while each girl seemed composed at her station, none was more so than Kathyrn. She guided her strings with ease, a sly satisfaction displayed upon her face, aware of her role both playing and pulling strings. The vibrations emitted by her cello & mandolin lend Von Grey's music a charged ambiance that introduces folk into into the electro-hum of the synths.
The vocal layers spans the heights of Annika's higher range to Fiona's rumbling voice, which recalls the deep timbre of Marina + The Diamonds, with Petra providing additional harmonies at her keyboard. Their refined and powerful voices, coupled with lyrical taunts and threats on tracks like "Hunter" and "Bad Bitch" consummated them as femme fatales, sorceresses fully aware of the spells they cast upon crowds.
From the very get-go, they tell the audience that being a "bad bitch" is hard work; if that's so, then they are working very very hard.