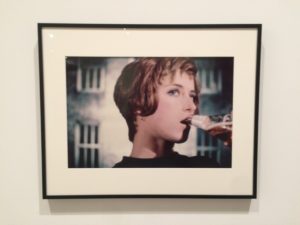 And so the Broad Museum's Summer Happenings came to their eventual end this past weekend, but I must say this last one ended on a much harder note than any previous. An evening squarely focused on electronic music, the show pulsed and popped with energy and post-summer bliss.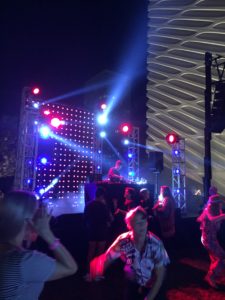 Finding a comfortable home in standard house, JD Samson led a delightful set amidst the bright lights of the Plaza Stage. Old school techno and dance kicked out of the speakers and sparked an enthusiastic dance session in front of his turntables. Probably one of the more eventful sets I've seen in a long time, and I can can only hope that one day every DJ is mandated to insert Technotronic's "Bump Up The Jam" into their set in some way.
SOPHIE's set began in his usual manner, a slow build of earth-shaking hums designed to make you shiver in anticipation. And it was effective; people raved and leapt amidst these deafening drones alone. So once he dropped into the bouncily brutal "Trophy", a single he produced with Charli XCX, all inhibition came loose.
This being my third time present at a SOPHIE show, it remained impressive to view the reach his music has among people. Hipsters thrashed up against bros and health-goths, brought together by a swarm of aggressive bass lines and heavy synthesizers. It was like watching pop go punk, but with more pitched vocals and no mosh pit (this time at least).