At a time where few people are happy with America (for justifiable reasons), it felt refreshing watching French cold wave band, La Femme, take the stage of the Regent Theater, and joyously announce their excitement at being in California. In fact, they put together such a wonderful display of showmanship one could actually forget the laundry list of disappointments that has been 2016.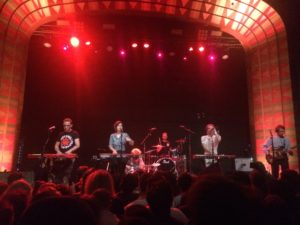 Guitarist Marlon Magnée moved like a Parisian Iggy Pop, cavorting about the stage with his shirt and inhibition both left upon the floor (he's also such a hero, physically removing a fan from the stage who'd climbed on to steal band-member Lucas Nunez's equipment). His female counterpart, Clémence Quélennec, provided a perfect counterbalance, sophisticated and ferocious with her cute beret and rapid-fire Francophone rapping. Honestly, all members of La Femme put on a spectacle, dressed as clowns, luchadores, and disco kings.
Despite the fact no verses came in English, La Femme's performance showed one that such trivialities as verbal comprehension are unimportant to the rush of a psych-punk concert. Standards from their catalog such as "Antitaxi" and "Sur La Planche" absolutely thrashed the crowd, while fresh cuts off their latest, Mystère, brought forth more melodic arrangements that captivated the audience. "SSD" absolutely destroyed the house with just a cultivated confidence and steady bass-line. The only people riding this wave harder than the audience was La Femme itself, thriving on the hype of the California crowd and transferring it into a brilliant performance.