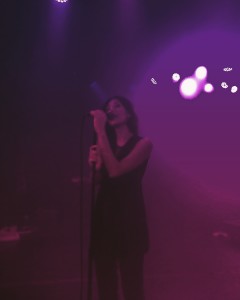 What better way to spend Friday night that with live music and lovely friends? The night of October 2nd took myself and my friend, Genesis, to LA's famous Roxy Theatre for an evening with Valerie Teicher, aka Tei Shi.
Argentinian-born, Berklee trained and Brooklyn refined, Teicher pulls a wealth of influences into her music, her vocals transitioning from synth-pop rocker to lofty R&B siren. Her bassist and drummer in tow, the combination lends to a fascinating show, full of bass and bubbles (a new trick she brought out for this venue).
Given the intimacy of the Roxy, it allowed for Teicher's voice to engross the entire theater. It danced between notes with ease, particularly on her cover of Beyoncé's "No Angel." However, Teicher moves onstage much like her music, somewhat slow and dreamy, which felt a bit humdrum on a Friday night and at points the crowd seemed uninterested.
That being said, I cannot believe how unbelievably loud and obnoxious the crowd was during the later half of her set. I am big on showroom etiquette, and if you're not here to listen, then leave; that leaves me more room to dance. Even so, Teicher managed to silence the room as she finished "Heart Shaped Birthmark," a testament to what her voice can do.
By the end of her set, Teicher announced LA would be her new home for the time being. I for one am very excited to see how this change in scenery affects her artistry. Hopefully, the wild west brings out a bit more of her wild side.