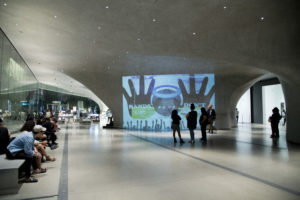 The third event in the Broad Museum's Summer Happenings series demonstrated that this fresh space lends itself not just to visual art but to immersive experiences altogether.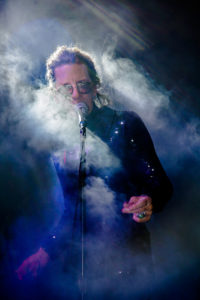 In the past three months, I watched acts spin sets amidst Koons and Murakami pieces, saw artists drink themselves into musical epiphanies from onstage, and even got the chance to actually interact with many of them. The outdoor Plaza Stage is an especially rewarding venue, where the stage's intimacy, lighting, and setting (outdoors against the Broad's captivating façade) promise an evening of wonder as much as music.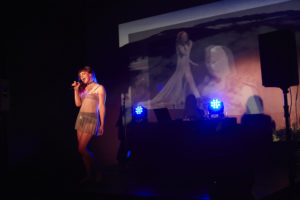 From within the Oculus Hall, Brooklyn-based vocalist and producer, Macy Rodman, fused the archetypes of hot mess and pop star for a wonderfully extravagant performance. Against a backdrop of Tomb Raiders and divas, Rodman rolled, slithered, coiled, and at one point, costume-changed upon the stage with the attitude of a brat left to her own boredom. Such execution provided a sense of voyeurism to her act; instead of feeling like she was performing for us, Rodman seemed to be performing for herself while we just got lucky enough to watch. Her self-described "lizard lounge-ish" vibe combines a little punk and a lot of prima donna, giving us truly delightfully indulgent and gritty tracks such as "Lazy Girl" and "Don't Break My Heart." Perhaps the best part came from Rodman's renditions of hits from diva's Stevie Nicks and Cher, whose hits, "Landslide" and "Believe" felt at home amidst Rodman's anarchic pop show (her rolling literally off the stage mid-song, to only continue with "I can feel something inside me say…" may be one of the funniest things I've ever seen an act do, and definitely one of the best cases of showmanship).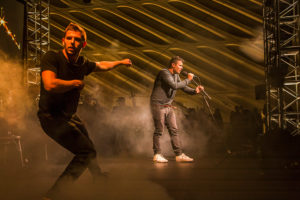 Following Rodman's escapades came the outdoor portion of the show with Rostam Batmanglij, vocalist and producer extraordinaire. Beside the lovely smoke and lights provided by the stage, flanked by a live orchestra and whip-quick dancer, Batmanglij emerged as the maestro of a lush sonic world, one where music sounds vibrantly liberated. When hearing Batmanglij on his own, you detect similar sensibilities and stylings present in the songs of Vampire Weekend, and realize his solo endeavors gave these attributes a chance to fully express themselves.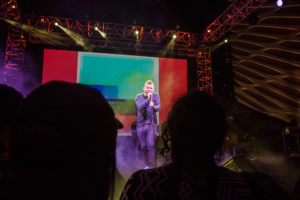 Each track seemed to build as it went on, growing in strength and intensity to eventually wash over the crowd. The lush "Wood" ("my most Persian song") took the audience through a fanfare of Middle-Eastern strings and drums, while the machine-gun percussion of "Don't Let It Get To You" slammed into you with the force of a person's unwavering conviction. But the best moment of the evening came during Batmanglij's "gayest song", the intergalactic "Gravity Don't Pull Me", which built to an ocean of warbling synths that brought even the stiffest of knees into the groove. By the show's end, I was still left with a universe of sonic energy wheeling about in my mind, one that I hope Batmanglij continues to take us to in the future.