This All Hallow's Eve, the sister-duo known as CocoRosie cast their ethereal rhymes upon the Fonda Theater. Dressed as twisted takes on the Pippy Longstocking motif, they appeared childishly rogue, looking ready to destroy just as much as they were to play dollhouse.
Accompanied by only a multi-instrumentalist and a prodigious beat-boxer (more on him later), the sisters summoned a horde of different sounds ranging from contemporary R&B to folky Americana, a feat few can pull off. Both sisters compliment each other extremely well, with Sierra's jagged, whispery voice crawling along the floor while Bianca's vocals echo like a steel drum from high above. Half the time I couldn't understand either of them, particularly Bianca, but to be honest it really doesn't detract from the show. If anything, this left CocoRosie's music up to interpretation, which was probably why they had such a passionate audience present this Halloween.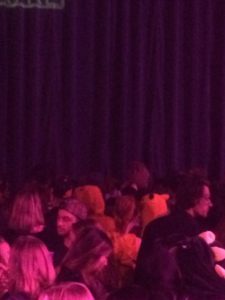 A side note on that beat-boxer: "that guy should be on America's Got Talent" were the words my friend Rachel used to describe his abilities. With a great precision, he produced a wealth of noises all while humming beneath them like a Tibetan monk. The sisters gave him a brief intermission to display his skills, but honestly we could have watched him the entire night and been satisfied.
"This song is about police brutality," the sisters said of track, "Big & Black", after giving a brief eulogy to those killed by police over recent years: I give major props to any act who puts forth a sense of activism in their work. Rather than come off as preachy, CocoRosie simply added another seam to their multifaceted musical patchwork, albeit a political one.
"I dreamt I was a wolf" the sisters declared at the height of the witching hour, diving into their track, "Werewolf" to ravenous applause from the crowd. It was the perfect end to a sublimely supernatural evening, a night for spirits as much as sound.